CITY & DOCKLAND WALKS
NEWSLETTER
Should you want periodic notice about upcoming walks then please subscribe to the newsletter.
FOOTWEAR
Most walks go along paved roads and paths but Barbican and Limehouse walks goes over some un-made paths which can be a little muddy after rain . Be shod accordingly.
meeting up
Meeting points are listed for each walk, here is the full list with directions.
CHILDREN
Accompanied children are welcome. Please note, however, that whilst the Walks contain nothing inappropriate they are not geared towards youngsters. Older children may enjoy them – though you might end up answering questions like "What's a lady-of-the-night?"!
DISCLAIMER
On all Walks you come at your own risk and no responsibility is accepted for any injury, illness, mishap, delay nor financial loss.
The Walks
Places mentioned for each walk are only a sample to indicate the general route.
Unless otherwise stated, walks take around 90-120(ish) minutes approximately.
The Guildhall, St Pauls and Tower of London are all worthy of tours in their own right so only highlights will be mentioned.
City Walks
BARBICAN – St Pauls tube to Postmans' Park (or the Rising Sun for those fancying a pub lunch)

Roman Fort, Wood Street, Shakespeare Folio, Barbican, City Wall, St Giles Church,  Physic Garden, more Wall,  Cloth Fair – with a livery company or two along the way as well as the City's oldest house. 
Meet outside the Co-Op by St Pauls tube, exit 2.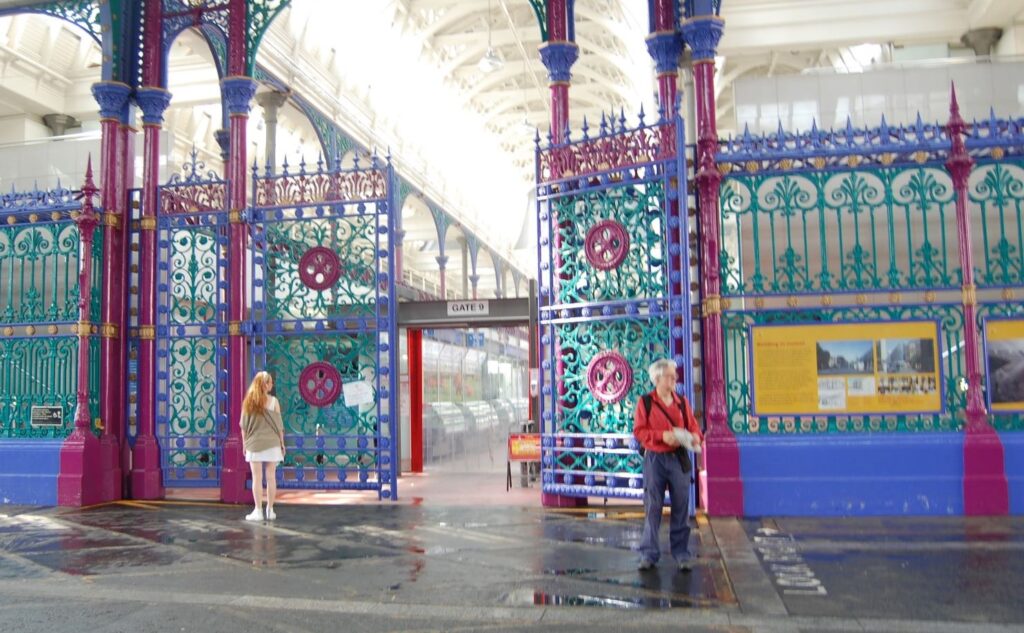 BISHOPSGATE – begins and ends at Liverpool Street station 
The Wall, Livery Companies, Austin Friars, Skyscrapers, Medieval Churches, Roman Girl,  Synagogues,  Victorian Bath-house
Meet by the KinderTransport Memorial which is on the south forecourt of the station (Liverpool Street exit)
BLACKFRIARS – begins and ends at Blackfriars station
Playhouse Yard, Carter Lane, St Pauls, Wren's Lantern, Swan Master, Blade Of Light, Blackfriars station and bridge.
Meet outside Blackfriars main station entrance on north side of river.
CORNHILL – begins and ends at The Monument
Great Fire, Pudding Lane, Cannon Street, Lombard Street, Coffee Houses, Leadenhall Market, Lloyds Building, Great Plague
Meet on the North side of the The Monument (the tower itself, not the underground station). This is the side away from the Thames and with the tube exit in sight up the hill.
FOUR BRIDGES – from Tower Hill Station to St Mary Aldermary (weekdays) or St Pancras Garden (weekends)
Tower of London (briefly), Tower Subway, Tower Bridge, Billingsgate, London Bridge(s), the Thames, Cannon Street station and bridge, Walbrook Wharf, Southwark Bridge 
Meet across from the Tower Hill Tram kiosk by Tower Hill station (not Tower Gateway)
GREAT FIRE RESISTANT (City East) – from Liverpool Street station to All Hallows by the Tower
Buildings and structures dating from before 1666.
Meet by the KinderTransport memorial at the Liverpool Street exit.


GREAT FIRE RESISTANT (City North-West) – from the Royal Exchange to Postmans Park – or for a meal or drink afterwards at the Rising Sun (Smithfield)
Buildings and structures dating from before 1666.
Meet outside the Royal Exchange by the statue of the Duke of Wellington (geezer on a horse)
LUDGATE HILL – from St Pauls tube to St Pancras Garden
Paternoster Square, Stationers Company, Temple Bar, St Pauls, Cheapside Tree, Wax Chandlers, Guildhall, Dick Whittington, Great Conduit, Pocahontas, Bow Church.
Meet outside the Co-Op by St Pauls tube, exit 2.
SAINT BART'S – Blackfriars station to Postmans Park
Apothecaries Hall, Old Bailey, Newgate Prison, Cock Lane,  Smithfield Market, St Bartholomew's hospital and churches, Founders Company, Postmans Park
Meet outside Blackfriars main station entrance on north side of river.
TOWER HILL –  Tower Hill station to All Hallows By The Tower
Roman wall, Trinity House, Fenchurch Street station, East India company, Great Plague, Samuel Pepys, Tower Of London, Tower Bridge (and tunnel!), All Hallows church.
Meet outside CitizenM hotel which is next to the Tower Hill (District/Circle) underground station.
WALBROOK – Moorgate tube to Walbrook Wharf
Finsbury Circus, London Wall, Austin Friars, Telegraph Street, Tokenhouse Yard, Bank Of England, Royal Exchange, Mansion House,  The Underground, Dowgate Hill and Livery Companies, Dick Whittington, Southwark Bridge.
Meet outside NatWest bank by Moorgate tube exit 3.
WESTERN BRIDGES –   City Thameslink to somewhere!
An untested walk via some of the City's better and not so well known bridges, plus a wealth of interesting places in between. Probable finish point around Cannon Street station or London Bridge.
Meet outside Costa by City Thameslink north (Ludgate Hill) exit.

Docklands Walks

LIMEHOUSE – Docklands Museum to Wapping Station (90-120 minutes) 
Limekiln Wharf, Limehouse Church,  Limehouse Cut and Basin, Shadwell Park and Basin, Tobacco Dock
Meet outside the Docklands Museum.

WAPPING – Wapping Station to Tower Hill station (60-90 minutes)
Brunel Tunnel, Captain Kidd, Execution Dock, River Police, Wapping riverfront and docks, Hermitage Wharf, St Katherine's Dock, Tower Bridge
Meet opposite Wapping station.
NORTH BANK – Docklands Museum to Tower Hill station (3.5 to 4.5 hours) 
An amalgamation of the Limehouse and Wapping walks with lunch at the Captain Kidd pub en route.
Meet outside the Docklands Museum.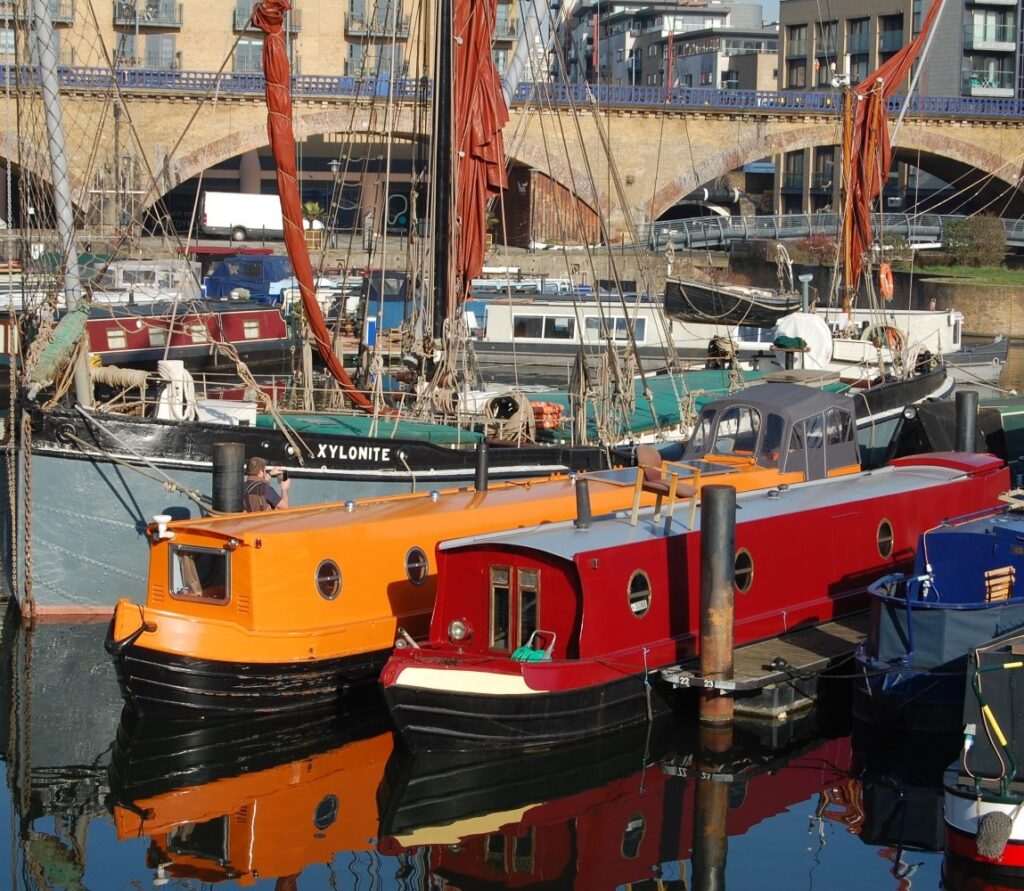 Here is a list of the meeting points mentioned in the Walks.
Future walks
Alongside the above walks I am planning the following.
FLEET STREET
WREN CHURCHES
If anybody wishes to come on a 'planning' walk then do get in touch.